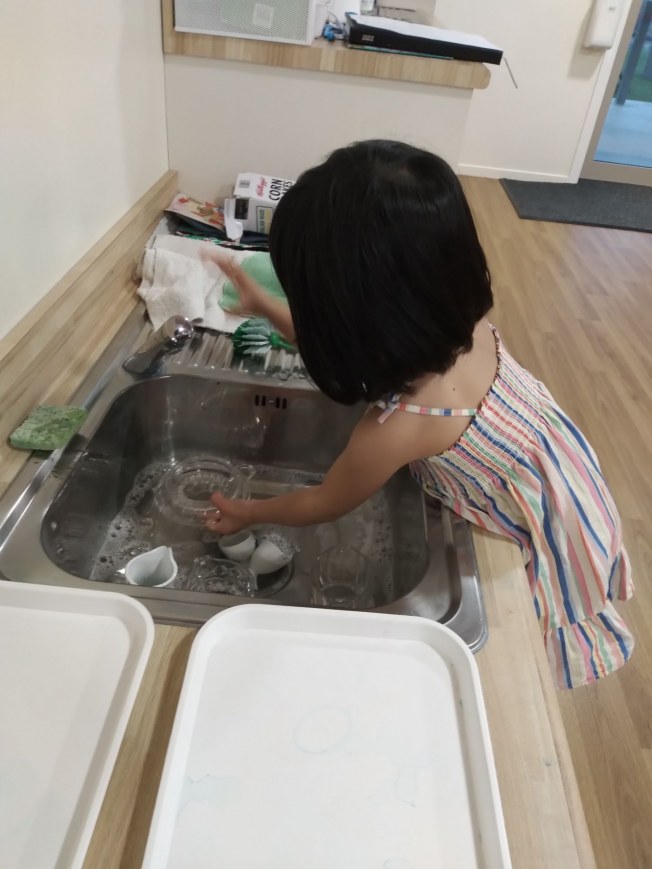 23 Aug 2022
This Friday, when MC came to the classroom, she told me that she is a big girl and that she can do anything.

Later on that day, I invited her to join me in cleaning the jugs and trays from our practical life area that we usually clean and sanitize every Friday to be ready for the next week. She excitedly came to me and said, "I can do this, I know how to do the dishes". I reaffirmed her mana... "Okay Monty, I know that you can do anything".

She was putting the jugs, spoon, tongs, and other containers in the sink, so I added just a bit of dish soap and mixed it with the warm water. She started cleaning diligently scrubbing until each dish was thoroughly cleaned, rinsing them under the tap, and putting them aside on the towel to let them dry out. I was helping by drying and sanitizing the jugs and trays and putting them back on the shelves.

During the process, Monty was talking to me about how to look after the environment... "I never throw my tissues or hand towels on the floor, I always tip them in the rubbish bin." Her knowledge and sense of responsibility were very evident throughout her conversation as well as through her mahi helping with the dishes.

"Free the child's potential, and you will transform him into the world." - Maria Montessori.